SPF swimwear
The concept of SPF swimwear is becoming much more popular because of the increasing concern over excessive sun exposure and its potential negative effects and skin cancer.
From the beaches to the rivers, lakes to the waves, or just the swimming pool in your back yard - wherever there is water, people are wearing UV protective swimming gear more and more.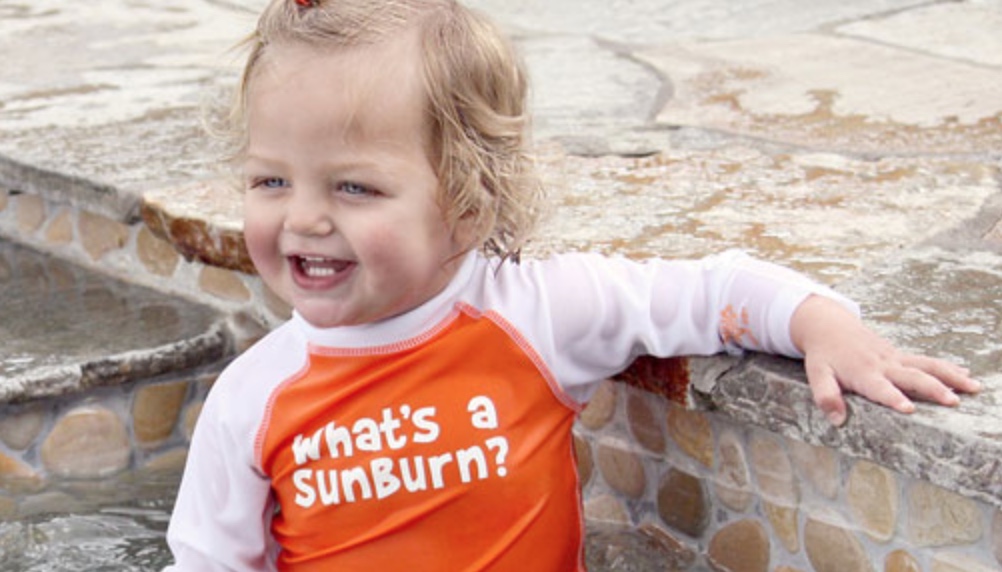 Baby in SPF swimwear
The needs vary somewhat with different water based activities:
Toddler and children outdoors in water
In the water activities such as snorkling, paddling or body-surfing 
On the water activities like sailing, surfing, water skiing, and kite surfing
However, this sun protective apparel has expanded into being used for anything outdoors:
jogging
walking
biking
gardening
travelling
shopping
hiking
boating
fishing... the list goes on!
Search more than 200 pages on this site...
SPF swimwear UPF rating
Not all swimwear is SPF rated.
Each item can be tested and approved by similar certification bodies that test for sunscreen SPF (UVB) levels as well as UVA protection levels. The result is a UPF (Ultraviolet Protection Factor) which refers to both UVA and UVB protection.
Usually you can see which method has been tested as it will state this fact on the label. Eg the American Association of Textile Chemist and Colorist test Method 183. 
Extensive ranges of 
SPF Swimwear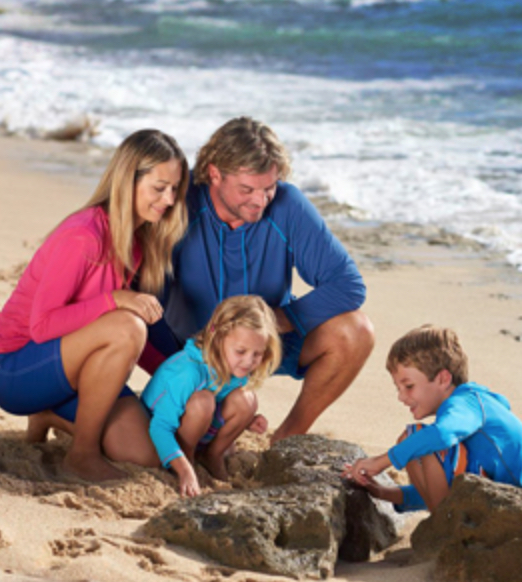 SPF swimwear for the whole family
The demand for UPF clothing has extended so much that there is quite an impressive variety:
unisex suits for babies
special rash protection fabric for all ages
long sleeved swimsuits
long pants
feminine swimming shorts
board shorts
matching shirt and shorts outfits
wetsuits

The range covers all ages:
Baby swimwear - from 0 - 2 years old

Children's swimwear: for 2 - 6 year olds and then 6 - 12 year olds

Women's swimwear

Men's swimwear
There are also many accessories included in swimwear like hats, shoes, and sunglasses - all with a UPF. But there are a few unusual items too:
Super absorbent swimmer's towel


Absorbs many times its weight in water. Great for all water sports. Eliminates the need for heavy wet towels after workouts

Baby covers


Protects your baby from the harmful UV rays of the sun while at the beach, swimming pool or anywhere outdoors in fact.




These have a UPF certification and are lightweight, with a breathable cover with elastic at the upper corners to hook over a baby stroller.

UV Neoprene swim vest


A great tool for helping young swimmers build their water confidence.




Made of a soft neoprene, usually in bright colors for easy identification, with UPF 50+ sun protection.




This is not to be mistaken for a lifejacket though
SPF swimwear - Baby Wetsuits
These are perfect for keeping the little ones warm in the water as all children under the age of 2 find it difficult to regulate their body temperature, even when in a relatively warm pool.
Wetsuits are therefore increasingly popular for the young ones as they are not heavy and cumbersome to wear.
Made from 2mm thick ultra lightweight titanium neoprene, they provide warmth and flexibility, and are made in all sizes.
A wrap design for the younger ages of 0 - 6 months and 6 - 12 months, they usually have a velcro fastening to allow for easy fitting.
The design often incorporates being able to open the garment out flat, so you can lay your baby down for fitting.
The 1 - 2 yr old size, however, allows for more active and co-operative little people by having an opening at the top and the bottom for them to step into easily.

SPF swimwear - Quality when wet
The fabric used for SPF swimwear is specially made to block out UV rays very effectively even when wet.
Normal, untreated clothing tends to lose almost half of its UPF blocking abilities when wet, which allows for greater contact with UV rays.

But remember, no matter how much the body is protected by the SPF swimwear, there will be some areas still exposed - arms, chest, neck, ears, face, hands, legs, and feet are common.
So, find a non-toxic, non-chemical natural sunscreen to complement the SPF swimwear.