SPF clothing an alternate sunscreen?
Sunscreen or Sun Protective Clothing?
SPF clothing with its enhanced UV protective qualities provides an option for taking sun care above and beyond sunscreens or sun blocks.
Any clothing will provide for some protection from the sun. An ordinary T-shirt will provide about the equivalent of a Sun Protection Factor (SPF) 8 and most clothes will not exceed SPF 30.
Is SPF clothing really an alternative to using sunscreen?
Search more than 200 pages on this site...
SPF Clothing's common attractions
The following reasons typically drive people to seek extra protection from the sun's UV rays than just by using sunscreen:
Being an active outdoor person spending long hours in the sun
Having a sensitive or sun allergic skin

Wanting to protect the delicate skin of your babies, toddlers or young children
SPF clothing is more commonly certified with an Ultraviolet Protection factor (UPF). The reason it is given a different name is the fact that although very similar in concept to the SPF rating for sunscreen, there are 2 key differences:
UPF rates the protection provided from both UVA and UVB rays, whereas the SPF number on sunscreen only rates the protection factor against UVB


Once the material has been certified as UPF 30 or UPF 50+ or such, it will remain UPF 30 or UPF 50+ for as long as you wear the garment.
Sunscreens require reapplication as well as sufficient application. People tend to forget to reapply when out for a long time in the sun and all too often do not apply enough, or evenly, or even forget some parts of the body

Is sunscreen necessary then?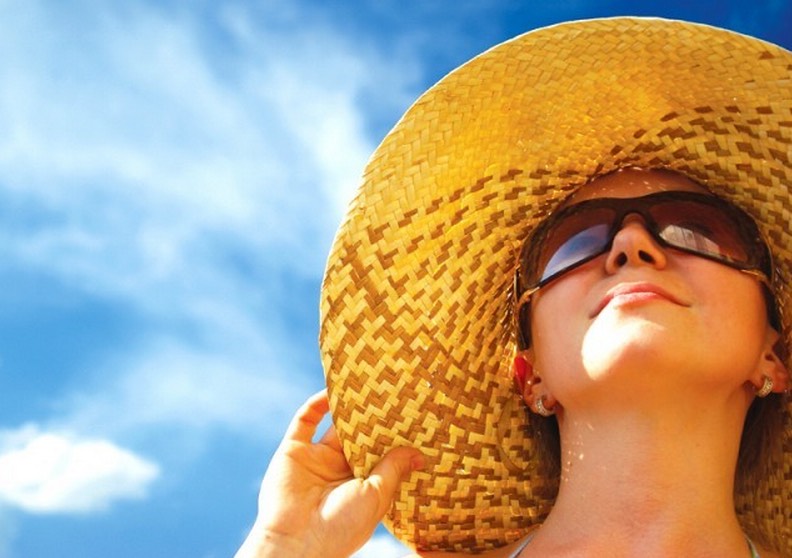 Sun protection beyond the hat
Even if you are wearing sun protective clothing, sunscreen is always required for areas of your body that may still be exposed to the sun's UV rays.
Your face may require extra protection even though wearing a hat, as the sun's rays are easily deflected or reflected off different surfaces such as water, snow, glass, or even the earth below our feet!
Areas often forgotten or needing extra cover are your nose, chin, neck, feet and hands.
Then there are examples of extremity where double protection is a good thing ie. wearing sunscreen and SF clothing.
There are many official organizations that endorse SPF clothing. Some of these include:
SPF Clothing - What to look for?
To make the best choice of sun protective SPF clothing, ask these 3 key questions: 
Has it been tested officially for SPF/UPF and is not made of inferior material?
Is it chlorine resistant or salt water resistant if required for swimming?
Can it protect you from over 97.5% of both the UVA and UVB rays?

Will SPF Clothing make me really hot?
Although the intention is to cover a lot of your body, the material used is made of a tightly woven, lightweight and cool material that reflects heat and helps to keep you feeling cool.
The origins come from a need in desert wear, long-distance horse, camel or bike riding as well as extreme athletes. Nowadays it is engineered to withstand the abuse of sport and outdoor activities, enabling your body to move freely and stay cool, even in peak summer heat.

Durability of SPF Clothing
Many protective clothing products include mesh panels and openings to allow cool air to enter and warm air to exit. Taking care of the fabric is essential for long wearing but instructions are usually quite explicit and easy. Mostly they can be washed in cool water with mild detergent, rinsed, line dried and ready to wear in the morning. Sometimes they require hand washing.

The sun protective swimwear is especially prepared to enable wearing in salt water and/or chlorinated water. Some hats are chlorine and salt water resistant as well, so they can be worn in the water.

Variety of SPF Clothing Available: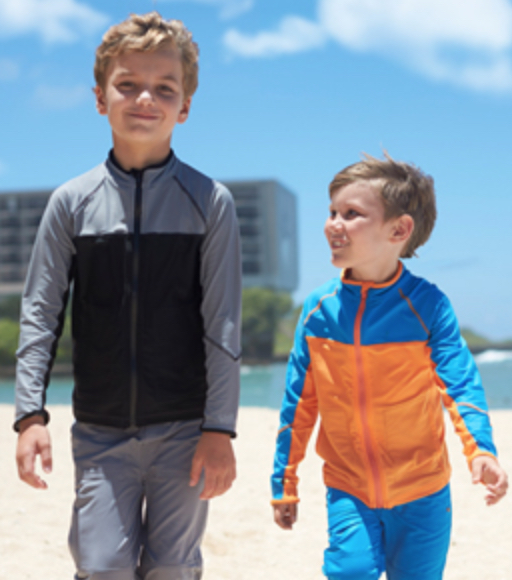 Shirts 
Ventilated shirts include designs elements such as:
concealed side ventilation inlets
front and back vents
extra-wide underarm mesh panels
hidden mesh panels above the chest pockets to circulate air around your body and flow out through the back side vents and a ventilated back yoke

Loose sleeve cuffs keep you cooler by allowing air to enter

Long sleeved T-Shirts have features like underarm ventilating mesh inserts
Jackets
Some can be quite sophisticated so can be worn at the sailing club, on the boat, at the poolside, or outdoors anywhere!
They usually have soft, elastic cuffs with an underarm mesh.

Pants/trousers
Designed for extreme athletes as well as everyday functional outdoor activities, they include:
unisex or feminine style
three quarter cargo style pants
leggings, with a range of colors that coordinate with shirts and jackets.
some even have air panels at the calves and lower thighs for ventilation.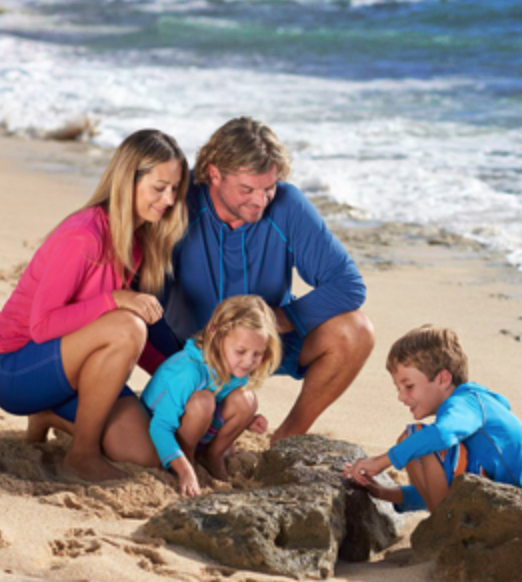 Water wear
All water wear is made from lightweight, stretch fabric that allows you to move freely as well as dry quickly. 
Swim shirts are usually zip fronted and long sleeved, with some even female figure flattering.
Trousers or leggings are close fitting.
Always rinse garments in fresh water as soon as possible after use to enable the longest wear.