Tanning bed supplies
Tanning bed supplies you may want to have on hand to enable a quest for a bronzed body for summer by using a tanning bed, are either essential or optional. 
Decide where you want to tan: 

Invest in a tanning bed in your own home 
Go to your local tanning salon
Because owning and maintaining a tanning bed can be reasonably complicated, a tanning salon becomes fairly appealing.
Whether at home or going to a salon, there are various things to consider obtaining. Even though the tanning salons will have many of their own tanning bed supplies, there is a wide choice out there and you may wish to consider obtaining your own supply.

Search more than 200 pages on this site...
Essential tanning bed supplies: Tanning lotions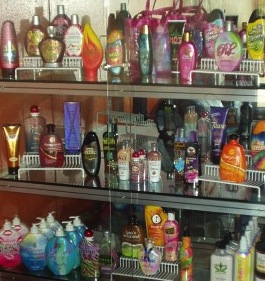 Always a vast choice
One of the first things you'll want to make sure you have is a good quality tanning lotion. The purpose of a tanning lotion is to keep your skin from getting dry during the tanning process.

Tanning bed lotions are produced in a variety of formats that include sprays, mists, gels and creams. The sprays and mists are practically the easiest to apply and hence the most popular. They also offer the added benefit of being able to apply in the privacy of your own home. Mostly, these tans will last for about 3 to 5 days.

However, predominantly spray tanning is done at a tanning salon inside a private booth. A spray tanning session will usually involve an espresso-colored mist sprayed automatically onto your body. This can be a tricky procedure if you don't prepare yourself adequately so that your entire body gets tanned. You need to position yourself correctly and protect things such as your hair, face and especially your eyes. The tan then lasts for about 7 to 10 days.

Airbrush tanning is a skilled task performed in salons and spas. Trained airbrush tanning professionals are able to give you personal attention and alter your skin's color in different areas of your body for a more natural look.

Additional tanning bed supplies: 
Tanning accelerators
Additionally, you can also purchase a variety of tanning accelerators that will aim to increase your tan by up as much as 40%. They encourage or stimulate the production of melanin through the use of chemicals, amino acids, and vitamins.

L-Tyrosine is a common amino acid used for this purpose and is found in tablets to be taken as a daily supplement, in tanning lotions, or even in a drink. The suggested dosage pattern for adults is to ramp up the Tyrosine in the beginning week with 2-3 tablets daily and then 1-2 tablets daily thereafter. This would be in conjunction with a normal tanning routine.
Energy drinks use a combination of amino acids, vitamins, minerals, natural stimulants and enzymes that will work together to not only provide a burst of energy, but a greatly deepened tan effect.

Essential tanning bed supplies: 
Eye Protection
Because you'll be exposed to direct light, it is vital that you protect your eyes and there is a huge variety of what is referred to as 'eyewear' available. You can either buy a pair of special goggles at the tanning salon or at a store that specializes in selling sun care products and tanning bed supplies.
There is a very real danger in ruining your retinas through close and unprotected exposure to the tanning bed UV rays. It is absolutely not worth your while to enter a tanning bed at home or in a salon without something to protect your eyes.

Referred to as goggles as well as eyewear, they come in all shapes and sizes. You can either obtain a pair that fits your eyes perfectly so as to maximize your tanning experience with a neat tan shaped to your eye, or you can choose a disposable type that is more hygienic as an option.

Basics of Tanning bed supplies
Your absolute basic supplies should include:
Tanning beds see their fair share of people and cleanliness should always be at the top of your list of tanning bed supplies. Make sure to use the sanitizing cleanser to wipe down any surfaces of the tanning bed that aren't already clean. After you're done tanning, be sure to clean up after yourself to enable the next person's experience to be as optimal as possible.

The great thing about tanning salons is that they often sell plenty of tanning bed supplies so if you're a first-timer to the tanning world, make sure to connect with the staff to find out what knowledge they have and ask them to recommend the best tanning bed supplies specifically suitable for you.

Optional to tanning bed supplies: Own Tanning bed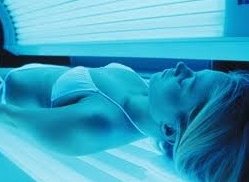 You will find a large variety of beds (and tanning bed supplies) available if you decide to look at buying one for your use at home. The tanning bed industry in the USA is a billion dollar one, with millions of users annually, so it is no wonder there is now such a variety on offer. There are models designed for home use, plus those that are manufactured for commercial or salon use. There are variants in size, as well as in technology. Makers of sunbeds have produced different sizes to accommodate consumers who might be taller or larger than the average person. Technology varies with the use of different UV rays as well as the intensity of these rays. Prices of sunbeds can vary from anything between $2,000 and $7,000.

The market for tanning bed supplies continues to flourish despite the ongoing debate concerning their toxic health side effects. The main concern here is skin cancer. Be careful to avoid overuse of UVA rays in particular. UVB rays help the body to produce Vitamin D in the skin and this is increasingly being talked about for its ability to fight cancer, among many other key health benefits.
However, if you overdo the UVB exposure you risk getting sun burnt and this may lead to skin cancer. Balance and managing your time in the sunbed is therefore key to beneficial health.

Essential tanning bed supplies: 
Additional SPF protection
There are other tanning bed supplies available to help you to protect yourself from over-exposure to the UV rays. These include:
Hair bonnets that are SPF protected, as your hair can get quite dry and brittle from over-exposure, never mind changing color

Face bonnets that are SPF protected, including what are referred to as 'Manly UV bonnets', for specific face protection from UV rays

Nail and toe savers for UV protection. These are long lasting, reusable and ready to wear covers for your nails that provide '100% UV protection'. They stretch over the fingertips and nails and can be rolled or cut to desired length. Made from UV resistant plastisol with added UV inhibitors, you can simply slide the caps onto your fingers. This enables you to protect your expensive nail treatments from turning yellow while you tan. They also allow you to guard against your nails yellowing or deteriorating. Mostly they are quick, easy, and comfortable to apply.



Optional tanning bed supplies: 
Tanning stickers
Tanning stickers are used for 2 main purposes:
To measure your tanning progress. Tanning is a somewhat gradual process and therefore your color changes throughout the day and from one day to the next. An effective way to measure your tanning progress is to use a tanning sticker in the same spot each time you tan. You'd be quite surprised at how much you have actually tanned over the course of a few weeks.

As a cool reverse-tattoo like mark. Used almost anywhere, they can be cute or a little naughty. With the recent craze towards tattoos and body art, many people have added daring designs to their skin. However, some people aren't that keen to commit to a permanent tattoo. With a sticker, the effects only last as long as your tan and simply leave a design of lighter sun tanned skin. They show up brilliantly at night clubs too.
Tanning bed stickers come in a wide variety of styles and patterns. From playboy bunnies to devils to names, words or phrases. Popular ones are the lightning bolt, a heart, happy face, and the peace sign. Tanning Stickers are relatively inexpensive, where a pack of 100 stickers is about $4.