Sun shades
Sun shades are sold globally in all sorts of shapes and sizes with a multitude of functions to meet the ever increasing needs of sun savvy people.
As we become more and more aware of the potential dangers of too much sunshine, most of all the dreaded skin cancer - people all over the globe are seeking a variety of solutions for sunshade protection in their every day lives.

Search more than 200 pages on this site...
Various designs of sun shades
Sun shades and skin cancer affiliations
An interesting angle on sunshades I have recently discovered, is that in Australasia - in both Australia and New Zealand where they are extremely sun conscious - there is an affiliation between sun shade manufacture and skin cancer societies.
Manufacturers of sun shades can actually become accredited if their standards meet the requirements specified by the Cancer Society of New Zealand or the Australian Cancer Council's 'SunSmart Schools' accreditation policy.
This is no mean achievement as in both countries the government has pushed strong public awareness programs as to the potential dangers of the sun to the public's health.
By purchasing a sunshade accredited through these programs, people acquire a level of confidence that they have taken every possible precaution to protect themselves or the public from the potential skin damages caused by the sun's UV rays.
Essentially this provides people with a greater confidence for safety and comfort when outdoors and both countries offer a great outdoor lifestyle.

Sun shades: affiliated effective design
The following gives you some idea of what the Cancer Society's recommendations are for "effective shade design". They state that a sun shade should ideally:
Fall where it is needed when it is needed. This typically requires very careful, very specific design to account for the exact area to be covered as well as the angle and movement of the sun throughout all seasons

Provide at least 94% reduction in direct UV radiation. This requires use of shade cloth that is verified by an independent laboratory to "guarantee" this level of reduction

Protect from indirect or scattered UV radiation. Scattered UV radiation results from clouds that are not directly above the shade structure or from painted walls, concrete, water or sand.  If a "shade audit" is conducted, it will highlight these sort of aspects

Be comfortable and practical, so people will actually use it. In other words, provides shade where people will want to spend their outdoor time

Contain shade cloth quality that offers a high percentage of UV block. These values can be independently verified to Australian and New Zealand standards by various certification bodies, such as the University of Queensland

Sun Shade Audit
This is a planning process that allows various organisations offering outdoor facilities to the public, to be audited to determine the risks within any of these activities if they are not providing adequate and effective shade.
Such organisations may include:
work premises
school premises
commercial premises
club or sport premises
any public premise
---
Skin Cancer and Sun Shade designs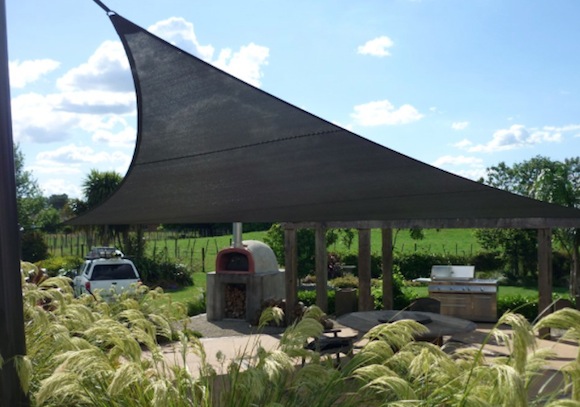 sun shades design and skin cancer affiliation
The following are some interesting statistics behind the motivation in New Zealand for quality sun shades:
Skin cancer is one of the most expensive cancers for the NZ health system to provide for every year. On average, it costs the New Zealand health system about $33 million a year.

Those people who suffer and die from skin cancer, on average lose about 17,4 years of their life.

Melanoma, being the main cancer behind deaths from skin cancer, is estimated at being over 90% attributable to bad sunlight exposure.

Sunburn occurring before the age of 20 years is a particularly strong risk factor for melanoma incidence. In fact, science has shown that excessive exposure to the sun from age zero to 18 years is the single greatest cause of melanoma later in life.
By enforcing efficient sunshade manufacture as well as implementation on the premises, the governments are proactively and constructively attempting to alleviate their health system costs.
Beyond the famous Australian 'slip slop slap' campaigns, these sun shade legislations are an interesting way to attempt to educate and enforce sun protection.

Sun Shade products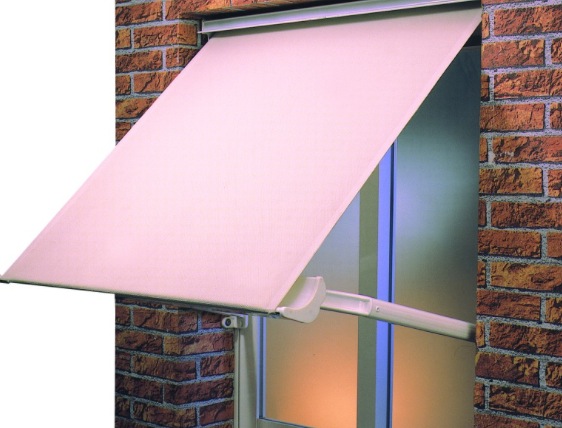 There is a multitude of different products available to choose from today:
Shade Sails: custom-designed and fabricated 'shade sails' created specifically to suit outdoor areas, that are fun and inviting and are also adaptable for outdoor play and eating areas.

Portable sun shades: Whether traveling to out-of-town competitions or hosting at your school or work premises, these are typically eye-catching, transportable shades for sports teams or work functions during hot summer events, as well as wet weather sideline protection in winter.

Awnings and umbrellas: are increasingly stylish and versatile options to offer aesthetic appeal especially for street restaurants and such, while also offering weather protection.

Blinds, draperies, shutters in vinyl, wood or aluminium, vertical or horizontal. Typically, aluminium blinds feature an extensive array of colours, textures and finishes, and come with a light-blocking feature for maximum light control and privacy.

---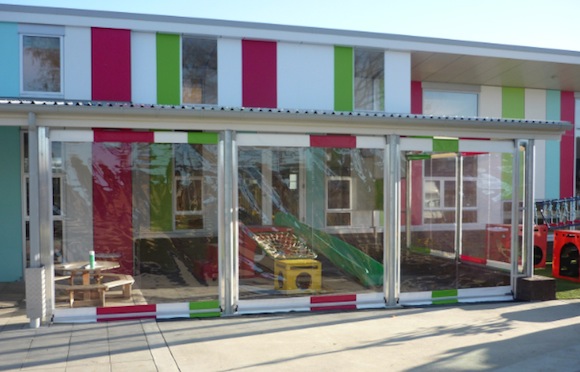 sun shade for a school
The implementations of the above will vary quite considerably these days, in conjunction with great flair and style across all varieties of outdoor needs that include:
---
restaurant's sun shade
---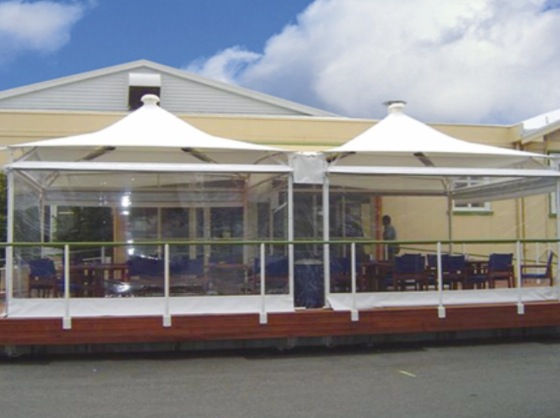 Sports club sun shade
Sports clubs:
Offering protection for club patrons from the wind and rain
Increasing your space without increasing your rent
Reducing sun strike and glare, while keeping an eye on the playing field
Creating that sheltered passage or walkway

---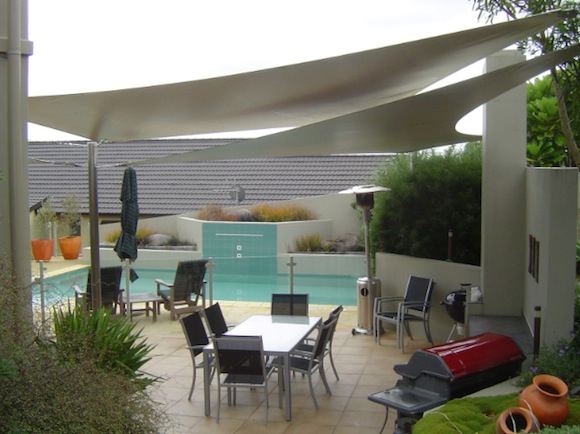 Private residence sun shade
Private residences:
Being used in many different forms both indoors and outdoors, fixed or portable, with wonderful creative and innovative designs too

---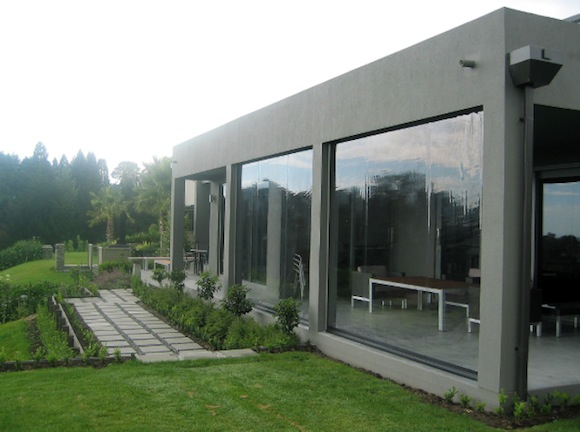 Architectural sun shade design
Architectural and landscaping design firms:
Incorporating the outdoors as an extension of the indoor space through creatively designed sun shade solutions

---
Rowing Club sunshade example
A rowing club, with its water views and beautiful natural light, wanted to take advantage of a new outdoor dining area.
But with no protection from the sun's heat, glare and UV radiation, their patrons were uncomfortable sitting outside.
The area also experienced waterfront breezes that made dining difficult and unpredictable.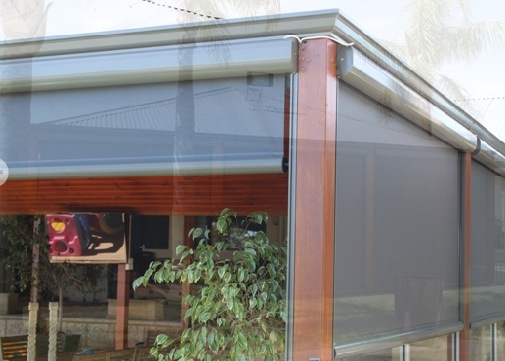 Rowing club sun shade design
In addition to sun and wind protection, the club wanted a sunshade that suited their modern renovation and optimised the balcony's new space. They wanted a sun solution that was effective, but that was also unobtrusive and allowed patrons to enjoy the views while eating.

The shade systems that were implemented, measuring 3.4m x 3.4m, were also fitted with a see-through fabric to allow for natural light to penetrate. The patrons and guests of the rowing club are now able to benefit from the beautiful waterfront views while being shielded from the sun's harsh heat.

The screens also resist wind with a weighted bottom bar that prevents the shade from flapping. They stop low sun, but allow air movement to prevent stagnant heat build-up within the protected area.
Free of complicated cords and pullies, the shades operate with a motorised system allowing retraction of the shades into their slimline head-boxes at the touch of a button. This head-box not only stores it when not in use, but protects it from weathering, prolonging its' life and a fresh look.

---
Modern Family home sun shade example
Wanting to extend their living spaces in their family home, without adding onto or renovating their home a young family in Perth, Australia, requested help to extend their living spaces by enclosing their patios and creating outdoor entertainment areas to be used all year-round.
The enclosures would need to protect against the strong winds as well as the harsh sun and would also need to be retractable to give the family total control over managing the weather elements.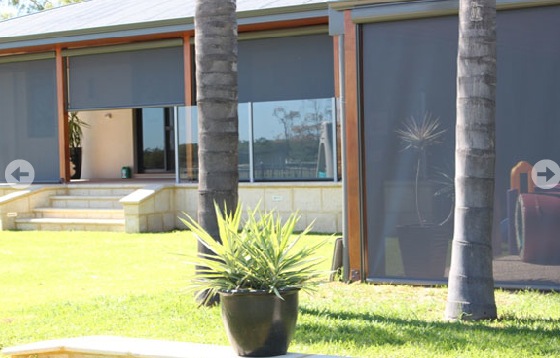 Australian sun-shade design for their home
The shade solution implemented involved the installation of multiple systems on the outdoor patio areas of their home, creating protected enclosures suitable for use throughout the changing seasons.
The external, tensioned screens act as a windbreak, rain barrier and sun shade and are ideal for patios, balconies, verandahs, pergolas and any other semi-open area needing protection.
The shade systems are also retractable - allowing the young homeowners to easily retract and extend the shades as required.

---
Retractable Roof sun shades
There are many different varieties of retractable shade awnings used for effective shading of skylights, verandahs or other large structures.
Installed externally to the frame of the existing or custom-built structure, they often stop the sun before it hits the glass, thus reducing the heat build up inside the home or building.

The tensioned blind covers flat, pitched, or barrel-vaulted windows or skylights with its taut, see-through fabric, which optimises the natural light.

Used in both residential and commercial sun shade systems, it is typically fitted close to the glass to ensure maximum protection even when the sun is at a low angle. If a minimal gap is maintained, it will allow for evacuation of hot air trapped between the glass and the fabric, which will enable the system to efficiently and effectively reduce the temperature of the interior drastically.

Although engineered to resist 120km/hr wind speeds, it is more efficient if you retract the sun shade into its sleek, unobtrusive head-box when not in use, to protect and prolong the life of the system.

Whether these retractable roof systems are used to provide cover for your pergola, pool area, glass roof, skylight or a custom-built structure, it is an effective solution for enabling an outdoor lifestyle or indoor comfort without having to suffer from the sun's heat, glare or potential harmful UV rays. It also lets the winter warmth and light in and keeps the summer heat out.

Sun shades references:
Cancer Council Australia
Cancer Society of New Zealand
NZ Sunsmart program