Safety sunglasses
There are many types of safety sunglasses available today for people either working in a dangerous environment, or living with an issue requiring extra protection for their eyes. 
So sunglasses are not only for protection from the sun's UV rays and the following provides a bit of an overview of what's available.
Search more than 200 pages on this site...
Radiation Safety Sunglasses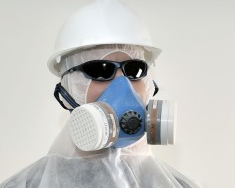 safety-sunglasses for radiation exposure
We are not talking about safety glasses from the sun's UV rays here.
It is extremely important for people working directly with radiation as medical practitioners or technologists to obtain extra protection for their eyes.
As the eyes are exposed to a high risk of harmful radiation, anyone working within radiology laboratories should ideally wear leaded eye wear for adequate protection.

Industrial Safety Sunglasses
With the extremely important task of protecting your eyes from anything that comes at them, these safety sunglasses are required to be hugely robust. In an average industrial environment any number of things can come flying at at you.
They are just as important as hard hats or gloves and so the best bet is to opt for something of high quality, which mostly requires spending a little more. There's no point in getting cheap glasses if they are too flimsy and aren't capable of doing their job.
An example of high quality and high price are the Oakley sunglasses brand. Known predominantly in the professional athlete world, they moved into answering the industrial industry's needs too. 
Having been "embraced by soldiers, SWAT team members and others who take their view of the world seriously" Oakley created what they called their Industrial M-Frame Safety Sunglasses.

Oakley's Industrial M Frame Safety sunglasses
They are tested and qualified for their lens/frame combination, meeting the USA ANSI Z87.1 standards for clarity and impact resistance, as well as the protection criteria of Canada's CSA Z94.3-02 standards. These are typically used for people doing anything from a lot of repair work at home to heavy industrial work.
Their patented technologies include:
optical clarity with lens contours that enhance side protection from sun, wind and impact

Stress-resistant O MATTER frame material is engineered with a critical degree of flexibility to absorb impact

PLUTONITE lens material is impact resistant plus filters out 100% of all UVA, UVB, UVC and harmful blue light up to 400nm. The UV protection is built into the lens material. It is not a surface coating that can wear away, so even the Clear lens offers the full level of UV filtering



Construction Safety Sunglasses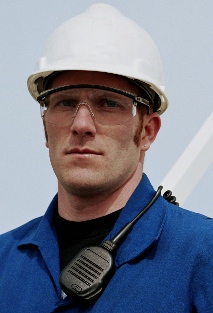 Construction safety sunglasses
Working in the construction game means potential encounters with flying debris and dirt, as well as small particles of metal and paint.
Construction safety sunglasses are therefore crucial for optimum protection for your eyes. Made of a laminated glass containing multiple layers of glass coated with a special kind of clear plastic called Polyvilyl Butyral (PVB), they are designed not to shatter when dropped and/or broken and are also extremely difficult to penetrate if something comes flying at them.

Designs usually incorporate a:
wrap-around style offering protection for the eyes from all angles
large enough style to allow optimum views as well as your own prescription glasses inside
---
Shooting Safety Sunglasses

Smith & Wesson Safety Sunglasses for Shooting
More than 30,000 people are injured each year in gun accidents, and a significant fraction of non-fatal cases cause eye damage to the user from flying debris and other airborne substances.
People typically buy shooting safety glasses for protection from the powder, smoke, light flashes, and small debris and dust. An additional benefit is if you find glasses strong enough to protect the eyes against kickback from rifles.

Shooting safety glasses options include:
a clear lens, for indoor shooting

a yellow or grey lens for outdoor shooting to cut glare and provide a comfortable view




interchangeable lenses to adjust to your surrounds
There is an American National Standards Institute standard, the ANSI Z87.1 which you can look out for when looking for quality glasses.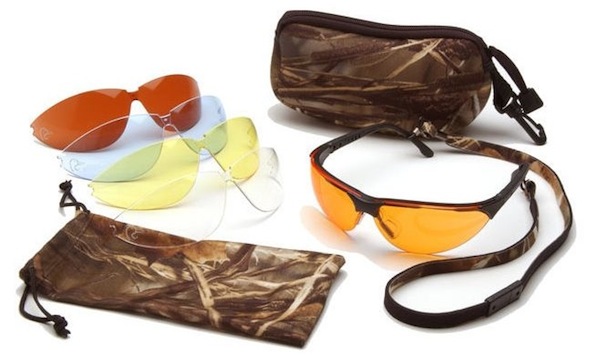 Safety sunglasses collection
Bifocal Safety Sunglasses
For any of the above examples of safety glasses, you can usually find a bifocal option, even if it's for the construction field or some other such outdoor work environment.
Their offerings include:
Robust physical protection

Ability to shift your vision when required mid-field




Protection against the glare from the sun

Varieties for men, women, reading, motorcycle and even magnifying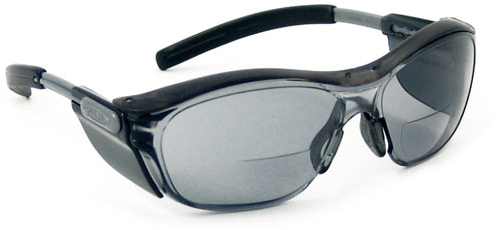 Bi-focal safety sunglasses