Goth sunblock clothing
It appears quite a difficult task to locate Goth sunblock clothing, wherever you are in the world.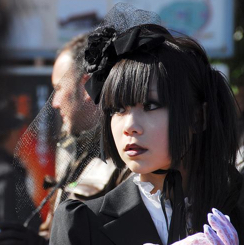 Key to embracing a Goth image appears to be the ghostly white, sometimes translucent skin pallor so desired in the early 19th century. 
The Japanese also used to revere an incredibly white skin as being highly fashionable. It appears that there are Japanese Goths today that really do set the example in so many ways from a Goth perspective, both in managing their pale skin color as well as their creative flair for Goth fashion.
Search more than 200 pages on this site...
Japanese Goth sunblock clothing
The Japanese are a great example for Goths, where Japan's popular and influential Gothic Lolita and Gothic Punk sub-culture has quite a large following.
According to one Goth beauty blog, "nobody does Goth like the Japanese".
In terms of fashion, there is a look called "Gothic Lolita" which has fired up the imagination of many young Japanese women, who go to extremes to create perfect ensembles.
They pair puffy skirts over crinolines with elegant ruffled Victorian blouses.
Japanese Goths favor black and white, but occasionally add touches of red or pastel blue or pink. Stockings are black fishnet or white with bows on the top, either knee-high or thigh-high.
No Japanese Goth is fully dressed without a black or black and white ruffled headdress.These women are committed to Goth perfection. Their fashion example set is most inspiring to non-Goths like me, never mind avid Goth followers!
When it comes to Goth sunblock clothing, they must also be an inspiration to follow.
Goth sunblock clothing quality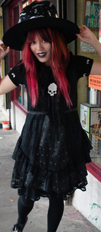 I understand that maintaining the high standards required for Gothic beauty as well as fashion, requires a lot of hard work as well as creative ingenuity.
Fashion colors seem to be limited predominantly to black and white. With splashes of red of course.
Tightly woven cottons provide excellent protection from the sun's UV rays. White cotton will reflect the light and heat of the sun, but the UV rays that burn you can still get through a loose weave.
Black cotton is much more effective at protecting your skin, even though it absorbs the heat more so than white does, at the opposite of the spectrum and also feels hotter to wear.

---
Goth sunblock clothing options
Goth style? A sun protective hat
However, Goth clothing with a certified protective factor called UV Protective Factor (UPF), seems to be rather limited when it comes to high fashion.
There are many clothing outlets that provide certified UPF clothing of very high standards, all attaining a minimum of UPF 50+, but I have not yet been successful in finding one that specializes in Goth sunblock clothing.

---
Goth sunblock clothing: 
Hats!
Gothic top hat
I got really excited to find a site called Gothic Hats, but was quite disappointed to find every single hat was a top hat, with very slight variations between designs and colors.
No good at all for any kind of sun protection, but all rather gorgeous!

---
Goth sunblock clothing: Umbrellas
Besides using a sunscreen, most Goths also always make sure to carry an umbrella or a parasol when outdoors.
Not perhaps something considered an item as part of their Goth sunblock clothing, as it can present a problem.
If desiring to be fashionable with your choice of Goth parasol, the dream antique parasol is top choice. Never mind the expense, if you manage to acquire the real thing, they are usually made with lace and this doesn't necessarily provide the best sun protection!
---
Goth sunblock clothing and 

Tattoos
A Goth follower will endeavor to have at least one tattoo, but preferably multiple ones.
One thing all people with tattoos are told, is to protect them from the sun in order for them to last. This can be done with the wise choice of quality sunblock clothing or sunscreens.
The trick is to find suitable Goth sunblock clothing in the traditional Goth colors. Where the clothing does not cover the tattoos, it is important to wear quality sunscreen for protection.

Goth sunblock clothing and 

Sunscreen use
For Goths, where an extremely pale complexion is a critical element, sun protection is a very necessary daily task, unless keeping out the sun completely.
When it comes to having to be outdoors in the sunshine, they will typically choose the highest possible SPF.
This is a common habit for many Goths, but I would encourage them to rather reapply often than rely on a high SPF.
The difference between one SPF and another is minimal. ie. an SPF of 30 provides 97% protection from UVB rays; an SPF 60 provides 98% protection and an SPF 100 99% protection. The table here illustrates this.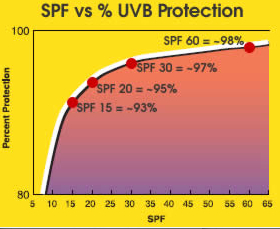 It is also common practice not to reapply when you wear an SPF that is very high. ie. anything above SPF 60.
This is due to the mistaken opinion that this will provide protection that lasts better than the lower SPFs do. As a general rule, the sunscreen will provide protection for about 2 hours before requiring reapplication. If you swim or sweat due to exercising, you should reapply more frequently than that.
No sunscreen is considered to be waterproof.The description that applies is water resistant and the FDA has ruled that water resistant certification should be for either 40 minutes or 80 minutes, depending on the certification.
Another aspect forgotten by many people, never mind Goth followers, is that a sunscreen needs to protect you from both the UVA rays as well as the UVB rays.
The SPF provides protection from the UVB rays only. It is hugely important to make sure you not only buy a sunscreen with UVB protection (SPF of 30 minimum if outdoors in midday sunshine) but UVA protection certification for as high as possible. ie.not just broad spectrum, but at least UVA 4 star or medium protection. In my mind though, you should opt for the highest possible UVA protection possible. ie 5 star or HIGH.