California Baby
California Baby® has a delightful story behind the creation of the brand, where a husband and wife team decided to create a line of baby products without any of the toxins they found so prevalent in their lives.
However, as a brand for online sunscreen shopping, I would prefer some more information about the different products.
On inspection of ingredients it is really difficult to differentiate one product from another.
They adhere to green practices for earth sustainability wherever possible in their business and manufacturing.
Their key by-line is "Safe, Natural, Fun" and there is plenty of information provided about these three aspects of their products.
The founder, Jessica Iclisoy, has taken naturaI and organic manufacturing standards to the extreme and started their own manufacturing plant plus an organic farm to grow their own calendula flowers.  
With a wonderful list of awards, the online information tells us a lot about what is not there, and the details of the specific ingredients for each product are there if you look for them.
Search more than 200 pages on this site...
California Baby Research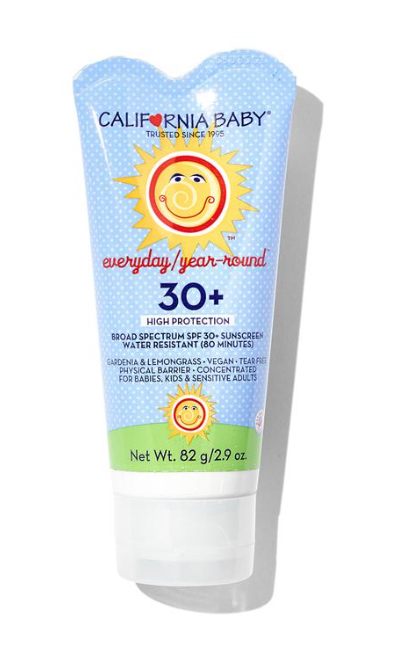 They continually research through leading raw material suppliers to create and pioneer safe, new and improved natural, green ingredients.
The innovation shows in the breadth of products offered as well as the depth of their green theme. Encouraging is their approach to avoid all ingredients that can trigger any allergic reactions in young children or anyone who is chemically sensitive, no matter the age.
The typical sort of things they say they avoid are:
synthetic fragrances
dairy
soy
peanuts
gluten
Most importantly they avoid anything potentially carcinogenic.

California Baby's Sunscreens: the important qualities...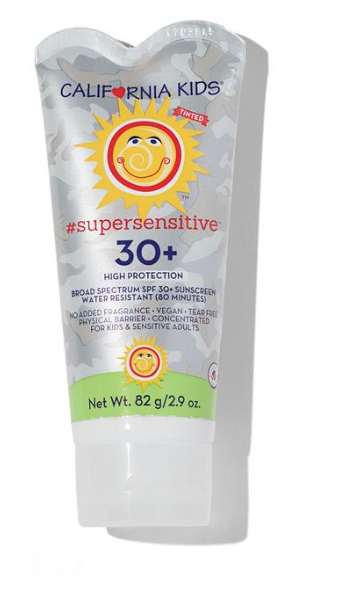 They state "All of California Baby's sunscreens are chemical-free" 
They use only the mineral sunscreen ingredient Titanium Dioxide
There are "No fragrance or scent masking agents" 
In other words the smell of their sunscreens reflect that of the ingredients only, rather than a specific added perfume.
They "Retain water resistance after 80 minutes of activity in water or perspiring".
With the relevant certification tests done for each and every product.
They "Contain organic and sustainably grown ingredients".
The validation details are available to look into if desired 
Certified for "UVA/UVB broad-spectrum protection".
Very important to have high UVA protection. The higher the UVB (SPF) the higher the UVA must be. As they use Titanium Dioxide and the SPF is only 30, they are likely to have a reasonably good balance. Although zinc oxide in my opinion would be a better choice
"Non-chemical sun block, scatters and reflects UV rays, No Octyl Methoxycinnamate."
Very good to know they are only using Titanium Dioxide as a sunscreen and have no chemical sunscreens.

They use "non-toxic essential oils like citronella, lemongrass and cedar".
These are used for their natural scents, although it is claimed to have "no scent masking agents". 
However, Citronella is typically used as an insect repellant; Lemongrass for its anti-fungal and anti-septic properties as a preservative; and Cedar for the antifungal, antiviral, antiseptic as well as lymphatic cleanser properties.

California Baby Concern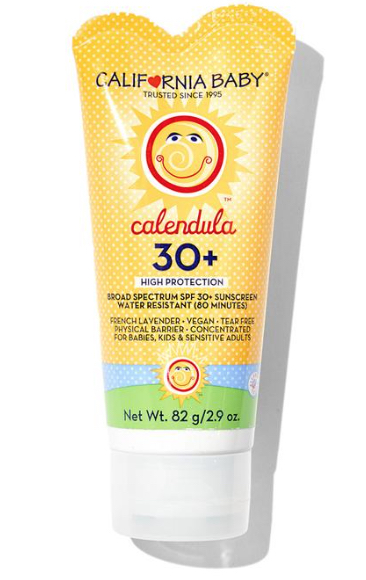 I am not so sure that it is a good idea to encourage people to use only a small amount as they say it is "concentrated and a little goes a long way".
One of the key things stressed by many health authorities is that traditionally people don't use enough sunscreen and so end up getting burnt.